My daughter has now decided that she wants to decorate her room like Wizards of Waverly Place. The good news is that we didn't invest very much in decorating her room when we moved into our new house. The bad news is that true WOWP decorations are hard to find.
You can start with the Wizards of Waverly Place bedding collection from Sears. I don't think that it will last long because it is on sale right now. They have a comforter, valance, pillow shams, and more. Alex Russo is on the majority of it.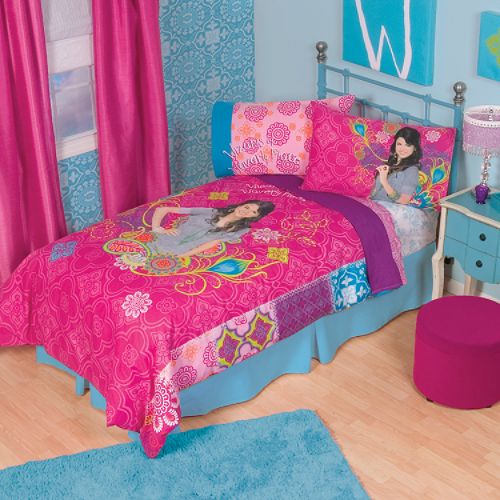 Disney Wizards of Waverly Place Magic Potion Comforter
Another idea is just to find bedding in the Wizards of Waverly Place color scheme (purple, pink, and turquoise). Then decorate your walls with the lifesize Alex Russo from Fathead:
If you order the Wizards of Waverly Place Fathead now, you actually get all of the other wall decorations free, including a number of Wizards of Waverly Place signs for the whole room.
Whichever you go with, you can take it to your local paint store and have them do a paint match for you. Maybe do one of the colors on top of the room or the other on bottom. Or perhaps a stripe or every other wall. There are some great possibilities!
{ 5 comments }